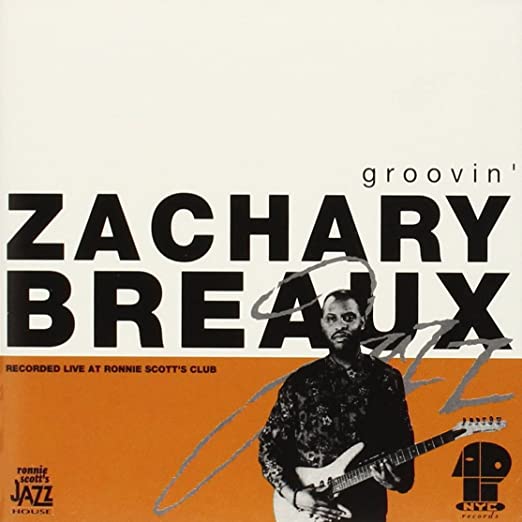 The Zachary Breaux Jazz Fest (Jazz Where Least Expected)
The Zachary Breaux Jazz Festival in Port Arthur, Texas is named in honor of one of its native sons, a guitarist who died in a tragic accident in 1997.
Breaux, an alumnus of the famed University of North Texas One O'Clock Lab Band, had recently moved with his wife to New York City where he had just released his third well-regarded album for the Zebra record label. That summer the couple took a vacation to Miami Beach and while walking its shores, they spotted a woman in the water waving for help. This was the second time Breaux had faced this situation. The first was in Italy a decade earlier where he saved a man from drowning by swimming to his rescue. He attempted the same in Miami but unfortunately powerful currents caused by rip tides began working against him as he swam toward her. In the end neither swimmer survived.
Ten years later his hometown of Port Arthur began sponsoring a jazz festival in his name.
Port Arthur sits on the Gulf shores of East Texas, two hours southeast of Houston. It's not a pretty place, certainly much less appealing than Miami Beach. But like anywhere else in the world, especially those that are lonely and out of the way, a good time is always welcome. Jazz Fest? Laissez les bon temps rouler!
Last weekend I had the opportunity to perform there.
A friend did the driving, heading east on I-10 then onto a series of smaller roads that led us closer to the shipping ports that define the area's economy. Nestled off a winding freeway exit, Port Arthur is a town punctuated by large oil storage silos. On one such silo, we saw two men wearing what looked like space suits hovering overhead on circular scaffolds blasting spray-paint through a stencil. Naturally we kept an eye out for Janis Joplin and Bun B tributes, but none appeared.
Like many other cities on the Gulf Coast, Port Arthur continues to suffer from unattended hurricane damage. In this case, it's Rita, five years later, still evident in the seemingly endless row of abandoned store fronts, caved-in buildings, and ragged blue roof tarps flapping in the ocean breeze.
In all our gawking, we got lost, our GPS having (mis)guided us deep into a neighborhood I'm sure the event planners would have preferred we not find. But all this sight-seeing was interesting too. Here, neighbors congregated on front stoops to escape the heat of their unconditioned, uninsulated homes. There were wooden churches along side fast food chains and liquor stores. A hand-painted sign dangling from the entrance of one such place read "do not sell drugs on the premises." A few blocks down the road, an enormous inflatable castle swarmed with happy children. All of this under the glare of imposing oil refineries visible on every horizon.
After many wrong turns, we finally arrived at the metal-roofed stage where fifty or so festival attendees sat patiently in their own foldable chairs. An enormous sound system with a thunderous low-end rattled the concrete–certainly more power than they needed, but it filled everyone with a welcome sense of awe and of power.
The Breaux festival is not a big event. It has only one stage supported by less than a dozen vendors hawking crawfish, shrimp, creole sugary fritters, and bottled sodas. And no alcohol.
When walked onto the stage, we were met with an ocean of folded arms and blank stares. It would be a tough crowd. But we diligently pushed ahead, playing our upbeat songs to a seemingly bored audience. Then, in the middle of a slow R&B tune, our saxophonist leapt off stage to wander among them. Suddenly everyone had a camera trained on our ambulatory leader, some standing in line to photograph him as he waved his black tenor saxophone in the air. The connection had been made. We finished with a shuffle.
On the way home, I watched egrets wade in shallow marshes as the refineries disappeared from the horizon. Soon small roads morphed into monotonous freeways. I realized then just how towns like this get neglected, economically and otherwise. With that in mind, I recommend this festival to anyone looking for an unusual day trip. The music was soulful and energetic, the food sultry and southern. And they need your business.