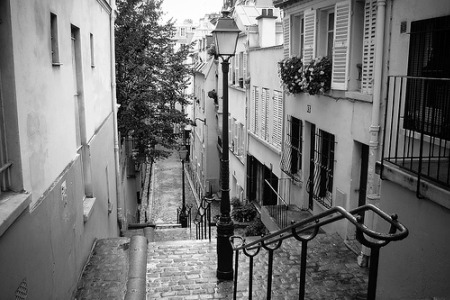 Well kids, we finally did it. We finally booked our trip to Paris. This is particularly monumental being Steph's first Euro vacay and all. But now that we have tickets (tickets? I love tickets!), we must decide where to stay. Being a Parisian imbecile, I only just learned about their system of arrondissements, or neighborhoods. Each apparently has its own advantages and quirks. The one that's drawing our attention though is #18, the hilly north side area called Montemartre. Here's the Wiki blurb:
The 18th arrondissement [1] of Paris is probably best known for the hill of Montmartre which was the centre of the Communard uprising of the late nineteenth century, but is also perhaps better known as the centre of the flourishing artist community of the period from around 1907 to 1914. Picasso, Dali, Duchamp, Toulouse-Lautrec, and others from the vibrant early modern period lived and worked here until driven out either by political considerations during the First World War or rising property values thereafter. The 18th is also the home of a thriving ethnic community in the east and a sort of a red-light district alongBoulevard de Clichy near Place Pigalle.
Option #2 is Arrondissement #5, St. Germain/Latin Quarter on the Left Bank. So, anyone have opinions on this matter? Will this be a fun area to hold court?
In the meantime, it's time to start reviewing High School French. At the moment I can recall exactly one sentence: Pourquoi est-ce que vous habitez à Genève? [Why do you live in Geneva?] Somehow I don't think this will get us very far. Steph has a better ear for language though, so I'm banking on her mad skills to get us through.