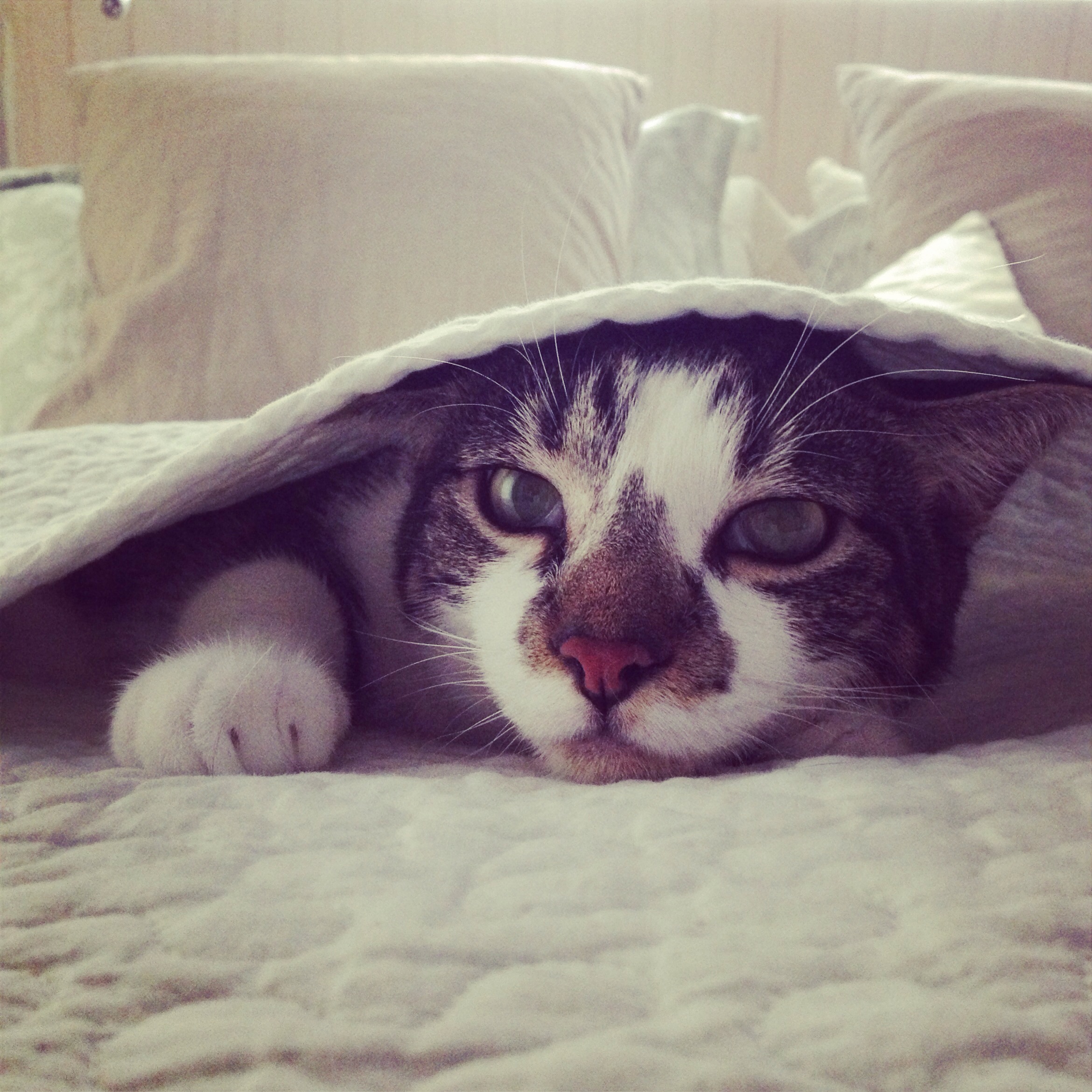 One afternoon our beautiful cat Target went outside and never returned. His leaving wasn't unusual, he'd do so every morning, but he always came back an hour or two later and never after dark. This day was different. As the hours crept by, we became increasingly aware of his absence until we finally set out on foot to look for him, each taking separate streets to cover the most ground. I called his name repeatedly. Stephanie did the same. We could hear each other's voices echoing through the neighborhood.
The search went on for hours. The sun went away. Our efforts grew desperate. There were heartfelt posts on pet lost and found websites sent from my phone. We even sheepishly knocked on a few doors, "Any chance our cat is in your backyard?"
That night we slept with the windows open, straining to hear a crying cat. At 4am, I got up and sat by the back door. Then again at 6am. Steph was already up. We agreed that we'd hit the copy shop with our lost cat poster, then flyer every house in sight.
These efforts would be short-lived.
While rounding the corner on an adjacent street, Steph saw Target's back legs protruding from under our neighbor's house. Even from a distance and without seeing his face, we knew he was dead.
She huddled over him in the grass, crying. I turned away to pick up the flyers that had spilled all over the yard. Hundreds of stupid flyers.
Steph carried him, I opened gates and doors. We regrouped on the back deck with his body between us. It was still unclear how he died. A car seemed likely, though there was no blood. Maybe he had gotten into some poison? Had he choked on his collar? Adding to our guilt was the fact that we had walked past this house several times during our search the night before. Maybe we could have saved him?
At some point, I texted our veterinarian friend Angie, who rushed over with her two-year-old son in tow (this woman is wonderful).
"He got hit by a car," she said quietly. She explained that his back legs had been broken. His abdomen also showed signs of swelling from the internal bleeding. All forensic evidence. "Sometimes they just keep running after impact out of pure adrenaline," explaining why he was so far from the street.
Though she offered to take him to the pet crematorium, we decided to do this ourselves. It would give us more time with him, more time to process what had happened. Steph would hold him in her lap as we drove, his body wrapped in a bath towel.
It felt like a funeral procession, especially after getting caught in horrible midday traffic and a sudden downpour. Later, among a tangle of back roads in an industrial area of southwest Houston, we found ourselves completely lost. After stopping to study the GPS map, I looked over at the towel with the protruding cat tail and then at the windshield now blurred by rain. Why didn't we start looking for him earlier? Why didn't we hear or see him after he was hit? Was he alive all night?
That afternoon, we took Xanax and tried to sleep. While we don't normally seek refuge this way (we only had one of these pills, which we split), the anxiety we were feeling was more than either of us could handle and we hadn't slept in two days. The drugs worked, but afterward, we awoke to a paralyzing grief. We don't have kids. That stupid cat was everything to us. A creature who stood on his back legs to hug you, who slept curled up against your chest, who howled when you went outside without him. I called in sick for work. It became clear that the only remedy was to just hole up in our bedroom, watch videos of him and cry it off like a bad fever. And that's exactly what we did for three days.
I know some regard pet grief as a triviality. It's just a cat, pet, etc. I suppose if you don't bond with these creatures, then the loss can be a minor one. For us, however, the emotional and physical impact of Target dying was no less painful than any of the human deaths we've experienced, and we've experienced many of those. In the end, you love who you love.
RIP little friend.