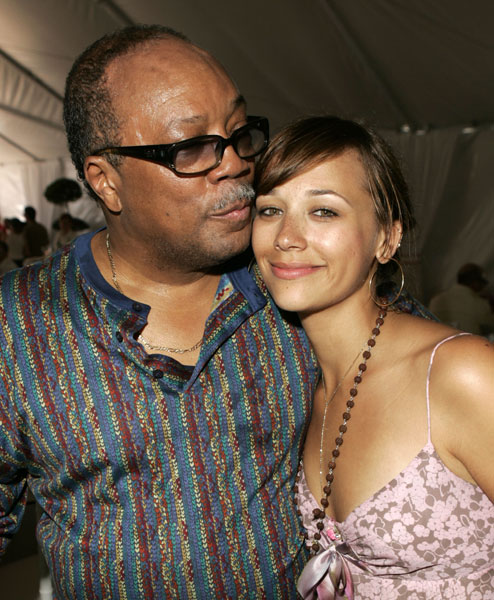 "Celeste and Jesse Forever" Soundtrack
A well-crafted compilation soundtrack can energize a film. It can also provide a launchpad for new artists. Stina Nordenstam and The Cardigans both benefited enormously from their appearance on the "Romeo + Juliet" (1996) soundtrack. Frou Frou and The Shins enjoyed a similar surge from "Garden State" (2004).
In the tradition of films with superbly curated soundtracks comes Rashida Jones' debut "Celeste and Jesse Forever." Rashida, the Harvard educated daughter of Quincy Jones best known for her turn as a lawyer in "The Social Network," co-wrote, EP'ed, and starred in the plucky new film. The story explores a bizarrely co-dependent and ultimately unhealthy marriage that continues into its pre-divorce stage until the guy, Jesse, *spoiler* gets another girl preggo. Sadness ensues. Sadness in movies invites good music.
Strangely, its soundtrack is not (yet?) available for purchase anywhere. But Spotify users have come to the rescue: Celeste and Jesse Forever Soundtrack (Spotify link)
During a hazy party scene, a song started playing that, if you follow NPR's music blog at least, you might recognize as "Baby" from the unsigned duo, Donnie and Joe Emerson. Two brothers, two farmers, from rural Washington who in the late 70s spent a lot of their dad's money building a recording studio and eventually making this record, which went nowhere. Until now, 30 years later. This spring NPR ran a story on it (watch the interview posted), now it's appearing in soundtracks. If only those white leisure suits would come into fashion again.
Link: NPR Interview
Another delight was the opening song by Lily Allen, a cheeky brit who paired up with Bird and the Bee genius, Greg Kurstin–think British accent over hip-hop with 70s retro synthesizers. The electronic shoegazer outfit Porcelain Raft makes an appearance too (their album Strange Weekend deserves an hour of your time, if you haven't yet heard it).
Keeping it in the family, a portion of the soundtrack was penned by Quincy Jones' grandson (or, Rashida's nephew) Sunny Levine. Rounding out the new stuff is a mix of vintage soul from artists like Bobby Cadwell and Brenda Russell.
And with that build up, here's the soundtrack listing (not in any order since the soundtrack doesn't officially exist):
Lily Allen "Littlest Things"
Porcelain Raft "Drifting In And Out"
Brenda Russell "A Little Bit of Love"
Bobby Caldwell "Open Your Eyes"
Sunny Levine "No Other Plans"
Donnie & Joe Emerson "Baby"
Freddie Scott "(You) Got What I Need"
BLO "It's Gonna Be A Good Day"
Vetiver "Can't You Tell"
Mr. Little Jeans "Rescue Song – RAC Remix"
Sunny Levine "As for Tonight (featuring Orelia)"
Shabazz Palaces "Recollection of the Wraith"
Dam Funk "Hood Pass Intact (featuring MC Eiht)"
ESG "Moody"
Keepaway "Faces Now"
****
October 25th, 2012: Update from the film's music producer:
"Happy to announce that the Celeste & Jesse Forever soundtrack is finally available via iTunes, https://itunes.apple.com/us/album/celeste-jesse-forever-original/id571831824, and other digital download stores. Enjoy and thanks for supporting the project!"
And with that, here's the official Album on Spotify:
Various Artists – Celeste & Jesse Forever (Original Motion Picture Soundtrack)
iTunes: https://itunes.apple.com/us/album/celeste-jesse-forever-original/id571831824
****
August 5th, 2013: Update from the film's music producer:
Here's the elusive "San Francisco Montage" cue in its original form, courtesy of Sunny Levine. Thanks for supporting the movie and the soundtrack. Sorry we couldn't include every song in the movie. Enjoy:
http://official.fm/tracks/mumG