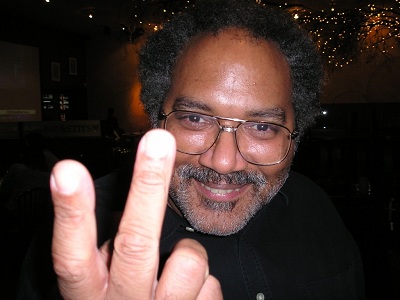 I just received the horrible news that bassist Derrick Lewis, one of Houston's finest musicians, was struck and killed while riding his bicycle this weekend. This is a senseless loss of life, one that has stunned the entire Houston jazz community as well as all those who knew him.
Derrick and I used to play a duo gig together in downtown Houston, just bass and piano playing tunes to small crowds who had an interest in actually listening to the music. It was a delightful experience because beyond his talents, Derrick was so fun to be around. Warm, funny, unaffected, and humble: he was without question one of the good people in the world… My heart breaks for his family during this difficult time. I'm further saddened to be out of the country and unable to attend the memorial events planned over Labor Day.
He is surived by his wife Anne and son Gregory, a new freshman at U of H.
RIP friend.
Here's a nice obituary written by his long-time friend and bandmate, David Cutaia.
Yesterday, about 10:30 am, my best friend, bandmate and brother of 39 years, was hit by a car while riding his bike. When EMS arrived he was unresponsive and was placed in Neuro ICU at Memorial-Herman hospital where he was pronounced dead. Derrick's wife Anne Lundy has graciously and selflessly allowed Derrick to be an organ donar and his body will help save many people's lives and create a good quality of life for many others. There will be a memorial service, tentatively planned for 3pm, Monday, Sept 3, 2012- that's Labor Day, at St. Mary's United Methodist Church, 6731 Scott St. There will be a musical tribute and jam session at the church afterwards, as well as a jam and benefit at a venue TBA in the near future. Please keep Anne and Gregory, who is starting at U of H this semester and is having to move into his dorm today, in your thoughts and prayers.